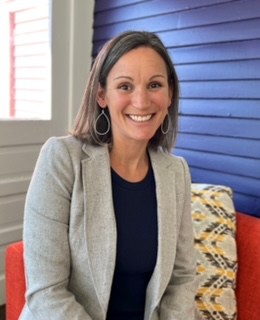 Realtor
|
Associate Broker, Agent, ABR
I love working with people. One of my favorite parts about being a Realtor is the relationships I form with my clients. I pride myself on being open and honest, and truly enjoy talking through ideas, questions and concerns with my clients. I also value the importance of being a good listener and am sure to take the time to really hear what my clients wants and needs are. Whether it's looking at houses with my buyer clients or helping my sellers get ready to put their house on the [...]
I love working with people. One of my favorite parts about being a Realtor is the relationships I form with my clients. I pride myself on being open and honest, and truly enjoy talking through ideas, questions and concerns with my clients. I also value the importance of being a good listener and am sure to take the time to really hear what my clients wants and needs are. Whether it's looking at houses with my buyer clients or helping my sellers get ready to put their house on the market, I'm full of ideas and suggestions.
Since receiving my Realtor's license in 2018 and beginning my career with Green Light Real Estate, I'm certain I've found my calling. I take my passion for caring for people and combine it with my enthusiasm for the real estate market, creating a fun and comfortable environment for those I help navigate the buying or selling process.
I live in Middlesex with my 3 children, Mya, Addie and Caleb and husband, Matt, where we have been for 13 years. Whether I'm paddle boarding at Wrightsville Reservoir, running the roads of my neighborhood or sledding down the hill in my front yard, I enjoy and appreciate the beauty of Vermont and can't imagine calling anywhere else "home" and am excited to help others find their perfect home, as well.
Office Location
63 Barre Street
Montpelier, VT 05602
Specifications
Languages:
Specialties:
Service Area:
Lauren's Testimonials
Lauren made our first time home purchase as easy as could be. She had great local knowledge about what properties would work for us and found us exactly what we wanted. Lauren was also very honest and transparent about all places we looked at. We felt we could trust her completely and had a  wonderful experience working with her!
Laura S.
Lauren is an incredible wealth of knowledge about the local market, the process from start to finish, and was also a joy to work with. We were in great hands and we even had some fun along the way! She guided us skillfully through every phase of the home-buying process and her enthusiasm and  insights were immensely appreciated. We couldn't be more grateful! It was an added bonus knowing the entire Green Light team was in our corner.  
Nicole S.
Lauren offers high professional service with a small town charm. She leaves nothing unturned, always striving to help her client. I would certainly team with Lauren behind the wire, she'll have your six.        
S. Waite
Lauren is absolutely wonderful! I was lucky to have received a call from her when I happened to click the button "contact an agent." She is energetic and you can tell she loves what she does. Just when I thought I missed my shot with my dream home, it came back on the market and we were there looking at it within in the hour and putting in an offer within the next hour! She is also extremely knowledgeable, professional and she was able to refer me to an excellent mortgage lender when I had an [...]
Kathleen T.
 Lauren is super personable and professional. She's great to be around and totally on the ball! She helped us out in an offer on a home which we bought and also helped us sell he house in which we were living. She was great at reminding us of all the little things you forget when buying/selling. She was super organized and empathetic to our goals and needs. Lauren is an all around beautiful human being. We are so grateful to her for her support through the buying and selling process!!! [...]
Amanda A.
Lauren is fabulous!! She stuck with us for over a year of house hunting and countless viewings until we finally landed the home of our dreams. She went above and beyond and for that we couldn't be more grateful. We went under contract early on in the process and Lauren even tried helping the sellers find a house so we could close the deal. Unfortunately things didn't work out, but she never quit on us. We will continue to recommend Lauren for any of our friends and family looking to [...]
Christine E.
Lauren was fast friendly and knew what she was doing. I would recommend her to anyone and use her again. If we had a question she was prompt with answers. She invited us to meet with the buyers and we helped answer their questions.
Becky A.
Lauren was very helpful ....hope to work with her again soon.
Kathy J.
Very hard working and thorough in her work. Very responsive to questions and worked diligently and pulled through to get a deal accepted after losing out on several bids.
Gayle M.
Lauren was very helpful from start to finish. She kept me informed and called often. Lauren went out of her way to help me close on this property. I'll work with Lauren again and recommend her to anyone.
Brian S.