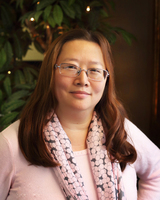 Maria Lamberti
Administrative Assistant
As the Administrative Assistant at Green Light Real Estate (GLRE) I have been able to merge my two passions: offering excellent customer service and real estate.
I am a "recovering" banker after being in the industry for over 20+ years. I am fortunate to have made many lasting business and professional contacts that I have brought with me to GLRE.
I love working at GLRE because we have an awesome team, I truly look forward to coming to work every day. Can you say that? I hope so! Our team is committed to our clients, GLRE and the industry.
On my free time, I can be found at home with my two children, husband of 26+ years, chickens, duck, cats and two dogs.